Andy Android Emulator 46.16.55 (x86/x64) Multilingual 170714
Andy Android Emulator 46.16.55 (x86/x64) Multilingual | 460/466 MB
Andy is the Android emulator that allows you to run all of your Android apps directly from your PC or Mac. It breaks down the barrier between desktop and mobile computing, while keeping a user up to date with the latest Android OS feature upgrades. Moreover, Andy also provides users with unlimited storage capacity, PC and Mac compatibility, and the freedom to play the most popular mobile games on a desktop. In short, you can now run Android OS on ShiChuang OS or Mac OS.
MAPS.ME for Android 7.3.7 75.00 MB
Free, fast, detailed and entirely offline maps with turn-by-turn navigation trusted by over 50 million travelers worldwide.
OFFLINE MAPS
Save mobile data; no internet is required.
FREE FOREVER
All maps inside and all features are free. Always were and will always be.
NAVIGATION
Use driving, walking and cycle navigation anywhere in the world.
INCREDIBLY DETAILED
Directions to points of interest (POIs), hiking trails and places missing from other maps.
UP-TO-DATE
Maps are updated by millions of OpenStreetMap contributors daily. OSM is an open-source alternative to Google Maps and Apple Maps.
FAST AND RELIABLE
Offline search, GPS navigation along with optimized maps to effectively save memory space.
BOOKMARKS
Save locations you love and share them with your friends.
AVAILABLE WORLDWIDE
Essential for home and travel.
AND MORE!
Search through different categories, e.g. restaurants, cafes, tourist attractions, hotels, ATMs and public transport (metro, bus, etc).
Make hotel bookings via Booking.com directly from the app.
Share your location via text message or social media.
When cycling or walking, the app shows whether the way is uphill or downhill.
Continued use of GPS running in the background can dramatically decrease battery life.
If you have any questions, visit our Help Center: support.maps.me.
If you are unable to find the answer to your question, contact us at:
[email protected]
Follow us on FB:
http://www.facebook.com/mapswithme
| Twitter: @MAPS_ME
OS: Android
Language: English,Arabic,Chinese,ChineseSimplified,ChineseTraditional,Czech,Danish,Dutch,Finnish,French,German,Hungarian,Indonesian,Italian,Japanese,Korean,Norwegian,Polish,Portuguese,Romanian,Russian,Slovak,Spanish,Swedish,Thai,Turkish,Ukrainian,Vietnamese
Download URL:
http://play.google.com/store/apps/details?id=com.mapswithme.maps.pro
Read more:
http://maps.me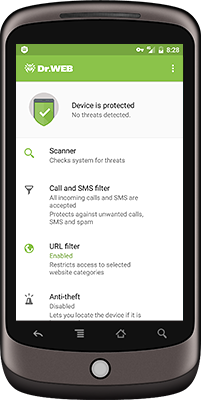 Dr.Web for Android 11.1.3 16.00 MB
Comprehensive protection for mobile devices from all types of malicious software used by fraudsters to commit cybercrimes. Protection components: anti-virus, anti-spam, anti-theft, firewall, URL filter, Security Auditor. The users of Dr.Web Security Space or Dr.Web Anti-virus are entitled to use Dr.Web for Android FREE OF CHARGE.
Features
Performs a quick or full scan of the file system, as well as a custom scan of files and folders specified by user.
Provides a real-time file system scan with SpIDer Guard monitor while trying to save files in the memory.
Detects new unknown malware using unique Origins Tracing technology.
SD-card protection from infection with autorun files and Exploit.Cpllnk, that might be dangerous for devices running windows.
Moves detected threats to the quarantine from which the isolated files can be restored, if needed.
Minimally impacts system performance.
Economizes battery resources.
Economizes traffic due to the small size of the virus database updates, which is particularly important for users of limited mobile tariffs.
Collects statistics on detected threats and actions performed.
Offers handy and informative desktop widgets to access the application.
Anti-spam - helps avoid unwanted calls and SMS messages.
Anti-theft - helps you find your mobile device if it has been lost or stolen, and if necessary, wipe the confidential information from the device remotely.
URL-filter will restrict access to undesirable Internet sites. Lets you block access to non-recommended or potentially dangerous sites.
Firewall - controls application network activity.
Security Audit - troubleshoots the device to identify security problems and offer solutions to address them.
OS: Android
Language: English,Arabic,ChineseSimplified,ChineseTraditional,Czech,French,German,Italian,Japanese,Korean,Polish,Portuguese,Russian,Spanish
Download URL:
http://download.geo.drweb.com/pub/drweb/android/pro/drweb-11.1.3-ss-android.apk
Read more:
http://products.drweb.com/mobile/?lng=en